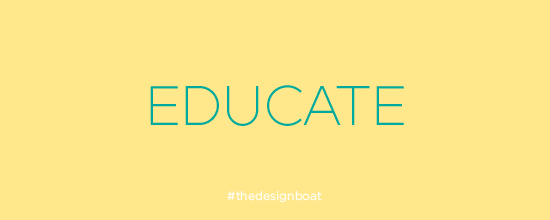 Today's value - Educate your clients
Today take time to educate your clients. Now that you have listened to them and worked out the solution educate them on it. And I don't mean in a preachy - tell them what to do, I mean help them to understand that there is an answer and you have it.
There is a way they can improve or move forwards. They can find their solution. Explain to them, show them and let them touch for themselves the very thing you are offering them that will solve their problem.
We all learn in different ways, so you will need to take a few different approaches to this for your whole audience to grasp the problem you are solving. Paint pictures with words and words with pictures. Use visuals - design, typography, space, fashion. Go all out and allow your clients to experience the solution. The more accessible you make it, the easier it will be for them and the more likely they are to buy from you.