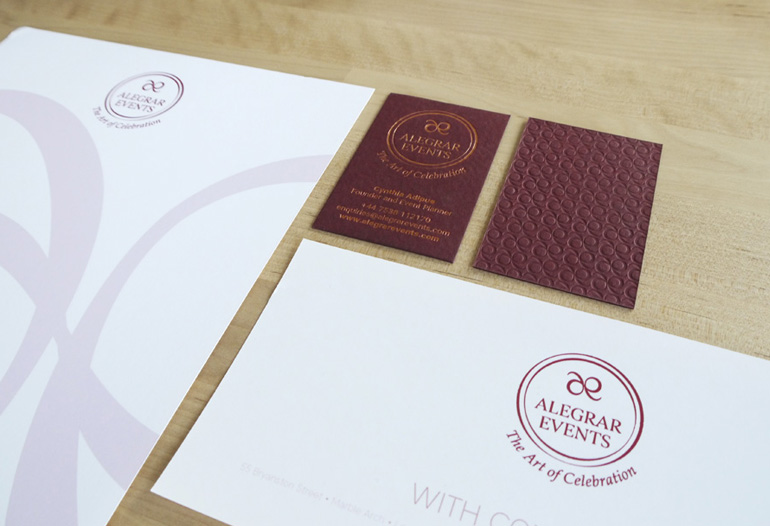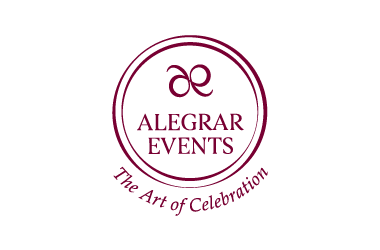 ALEGRAR EVENTS
Alegrar Events is a new business start-up for planning social events, covering London and Surrey. The founder, Cynthia, has a wealth of experience in corporate and management events but her passion is for organising social gatherings.
The aim of the business is to take the stress away from those organising events, to make life easier by having one point of contact to check in with and to save the host time. The target audience is professionals aimed over 29 years old. The types of events Alegrar Events would cover are weddings, dinner parties, and birthdays. They are establishing themselves as a premium brand, tailoring bespoke packages for their clients.
The brand needed to communicate excellence, premium, integrity and flexibility. The unique selling point and business personality is Cynthia herself; bubbly, enthusiastic and delivering on her promises.
We designed a ribbon like affect for the letters 'a' and 'e'. A ribbon would be used to present Alegrar's proposals to her clients and any gifts or mail she sent. Bringing the whole brand look together. We blind embossed the ribbon pattern onto the business card along with a foil blocking on the front. Cynthia was keen to have a rose gold colour for her brand. We agreed this had a more premium feel and set her apart from her competitors.
We delivered: the logo (from print to screen to social media use), complimentary fonts, colour palettes, photography style, brand guidelines and stationery.